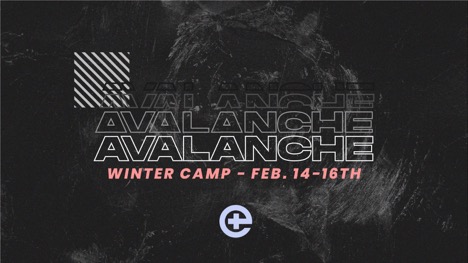 Friday, February 14, 2020
,
4:00 PM
Cost: Early Bird : $150.00, Registration Price: $180.00, Last Minute: $225.00
It's that time of year again!
Winter camp is just around the corner! Avalanche 2020 is going to be one for history books. This weekend in February will be a time for students to get away from everyday life and encounter God, connect with each other, and have fun. We will be back at one of our favorite locations - Camp Shamineau in Motley, MN.
We've got a great line-up of guest speakers: Kendall Alfaro (a dynamic youth pastor and communicator at James River Church in Missouri) and Jessie Golnick (a passionate youth pastor at Crossroads Church in Eagan, MN). Plus we have a great worship team and lots of fun in store. This is a weekend that your students won't want to miss. And guess what - registration is now open!

AVALANCHE DETAILS:
WHO: Students in grades 6-12
WHEN: February 14-16
WHERE: 2345 Ridge Rd, Motley, MN 56466
COST:
EARLY BIRD $150 | December 3- January 1
REGISTRATION $180 | January 2-31
LAST MINUTE $225 | February 1-10
register for avalanche | StudentScholarship FormFinish Requirements / Make a Paymentregister for avalanche | Leader